Amazing Basement Game Room Ideas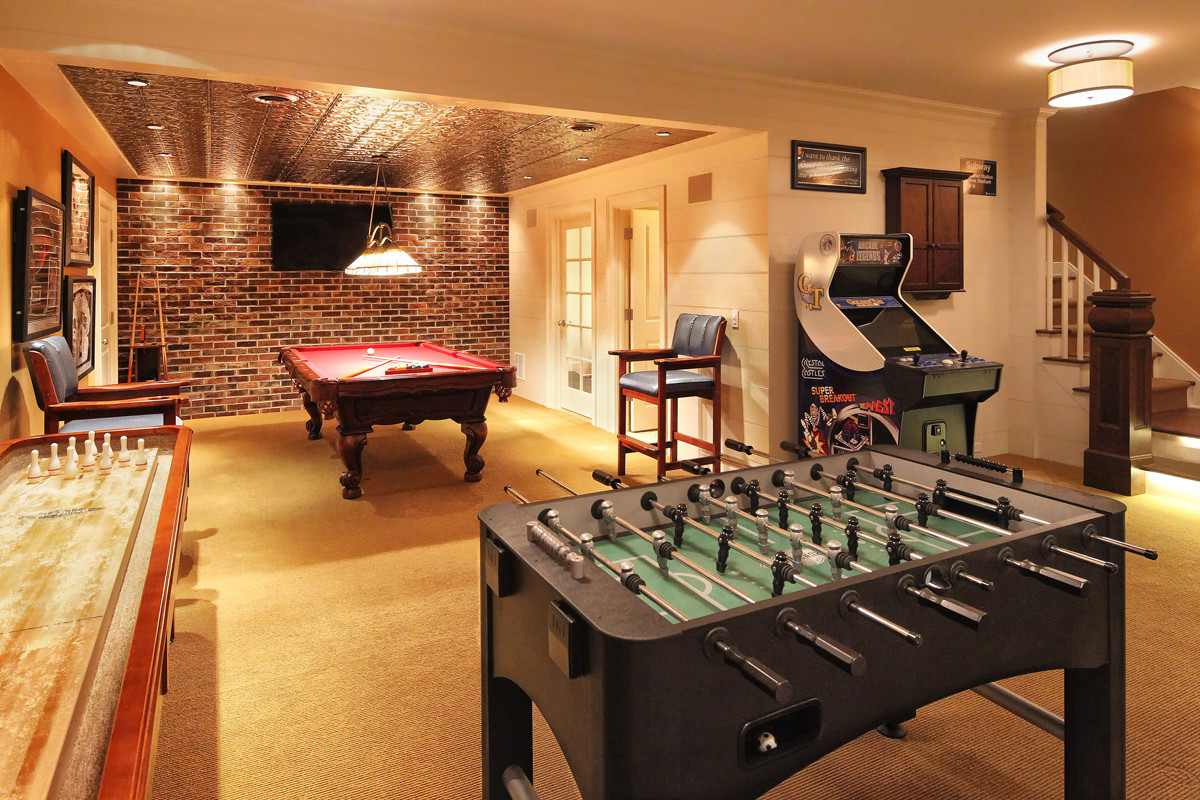 If you have a passion for gaming and a basement, you also have the two most important ingredients necessary for creating a basement game room. It can be the perfect space for your kids, double as a man cave, and serve as a relaxing space for the ladies.
How can a basement game room tweak the attention and satisfy these varying groups? Easily, with the right dose of comfort and technological variety. Relaxing armchairs and couches coupled with consoles, computers, game tables, and flat screens will render your basement game room not only amazing but where everyone wants to be.
The Basics
There are a few basics that will lay the foundation for your gaming nest.
Insulation
Insulation is crucial to your enjoying this space on colder days, and it can help contrast excessive humidity that can ruin furniture and electronics alike. If your climate is warmer, consider climatization so that the heat doesn't spoil the atmosphere. 
Soundproofing
Soundproofing needs to be a priority in a gaming room. This will protect you from neighborly complaints as well as permit gamers to enjoy this space without disturbing a family member's beauty sleep. Drywalls, insulating foam, curtains, carpets, and acoustic panels can help keep a lid on noise and improve sound quality within the room.
Wiring
Depending on taste and space, you may want to include a variety of games such as pool, poker, table hockey, or similar, and the latest video games. Wiring is an essential component of any gaming room. While it should be accessible for eventual repairs, it should not be visible. 
Cover it with carpeting, bookshelves, or other decorative elements to maintain an attractive appearance. And if you are a passionate online gamer, get a good wireless network installed including a gaming router for your console.
Décor 
Décor elements will reflect your personal taste and make your game room the talk of your neighborhood.
Limited Space 
Game rooms should have a good amount of space for people to play in, so if your basement size is limited, consider using light-colored flooring or reflective mirrors to make your gaming room appear larger. You may also want to consider multi-functional furniture to efficiently utilize a small space, whether it's a desk to a treadmill, or a comfy sofa to a sofa bed. 
Furniture, Pillows, and Rugs
If you want relaxing and cozy after gaming, nothing is more inviting than a sunken couch or large armchairs with pillows, throws, and rugs. 
Ceilings
Exploit pipes and ducts for an industrial look, cover them in wood for a rustic feel, or install a tin ceiling design from speakeasy days with drop ceiling tiles.
Lighting 
Depending on your taste, you can go video cool or vintage with old-style Edison light bulbs. Tiffany lamps are great for poker tables while an original chandelier can add an original touch. Neon signs of your favorite pub will add color and fond memories. 
Food and Beverages
Including a bar, even a small corner bar will help avoid climbing the stairs for a snack. While style choices that include small refrigerators, wine coolers, or microwaves are limitless, installing your beverage tap will add some authenticity and make your favorite beer taste even better.
Wall Décor 
You can give your game room an industrial feel with a brick façade, a country feel with stone, a retro atmosphere with wallpaper, or if you are a nature lover try a photo mural of your favorite sunset. Wall art of characters from video games are decorative or a wall painted with chalk paint will allow you to keep score, play Pictionary, or even tic-tac-toe. Chalk paint also can keep small children engaged for hours.
Games
The stars of your basement game room will be the games you select for your room, and this will depend on which games provide enjoyment to you and your family members. 
Arcade machines if you have a large basement and a love of vintage.

Backgammon, checkers, or chess especially if you design and make your own boards that become family heirlooms.

Casino games right at home. Are you a potential high-roller? Create your own gaming parlor with green felt tablecloths, shaded hanging lights, cards, chips, dice, and even a roulette wheel that can recreate Las Vegas or Monte Carlo without leaving home.

Floor games for children require a section of

the basement

for physical activity. Hopscotch, foursquare, or twister, can add to the fun, and you can create your own grids and mats.

Pool tables, table football, or table soccer.
Video, video, and more video with a modern console, good wireless, and all the comforts.
The Gamers
Apart from decorating your basement game room with art, furniture, posters, games, and perhaps sports memorabilia, is your game room a lady's retreat, a man cave, a couples haven, or a family affair?
Thanks to technology, one terrific idea to include is inviting distant friends and family in for a game. Keep in touch with a game or two through a video connection. You may even want to make it a monthly or weekly event. What better way to play than with those dearest, even if not the nearest!
A Final Thought
Games are incredibly popular in pubs or bars but imagine transferring your end-of-the-day fun to the comfort of your home with custom-made entertainment for your personal taste. With a little time and effort, you'll have created the best hang-out spot in your neighborhood. You'll know where your kids are, and you can relax in your PJs if the spirit moves you. For more basement inspiration, check out these finished basements.
About The Author: Emila Smith is a freelance journalist with a love for real estate, property trends and construction. She has been published on sites such as Alure, RealtyExecutives and Bigger Pockets.