25 Shower Tile Ideas to Help You Plan for a New Bathroom
For many of us, shower time is when we get to relax, wash away our worries and just enjoy some me-time. However, if you want to set up the scene right, the shower tile and the whole way it looks also matter.
In fact, we think it matters enough that we're going to dive in and help with some shower tile ideas and even some walk-in shower tile ideas, as we love this relatively new trend as well. Of course, you're going to have to do your own digging for matching materials, and you can adjust the plans to suit your needs and the space you have.
25 Shower Tile Ideas to Serve as Inspiration
Jazz up shower time with some extra style and vision. These 25 tile shower ideas will have you planning your bathroom redo and renovation in no time. From marble to ones with a bout of color, there's something for everyone below. And there's something for every kind of space as well!
1. Walk In Shower Tile Ideas
First up on our list, we have this busy design mixed in with a calming white. While this may clearly be a bit too much for some people, it's the right amount of extravagance for others. 
2. White Shower Tile Idea
This beautiful mix of white and off-white shower tiles is just beautiful. It gives off a clean vibe, and we're frankly jealous of that wonderful view. 
3. Wood and Mosaic Shower Tile Idea
Since the colors are pretty close, you can definitely mix tiles with a wood print on them on the floor and one wall and go with a bit more detail for the shower tile by picking a mosaic. It's such a cute shower tile idea. 
4. White Shower Tile Idea
If you want a clean look, going for a white marble shower tile is going to do the trick. Not only does this look clean, but it's also super bright. 
5. Cement-Inspired Shower Tile Idea
Cement-like shower tiles are all the rage these days, bringing an industrial look to the bathroom. If you add in some shiny floor tiles, you'll mix in a bit of 'modern' too. 
6. Gray Subway Tile Shower
We start the inspiration off with this gorgeous gray subway tiled shower. Paired with a marble tub, these grey tones spark a warm and relaxing tone for the entire space. (via)
7. Large Shower Tile
Pinterest tends to always bring us beautiful bouts of inspiration as well. We love how these lighter and large shower tiles bring more depth to the shower space. 
8. Bright Bathroom Shower Idea
The variety of tile that makes up this shower is impressive and interesting. Marble is always beautiful, but put in this artistic and creative context makes it even more so. We absolutely love the honeycomb pattern on the floor tile and the subway tile on the walls. It's such a lovely combination. (via)
9. Walk In Shower Tile Idea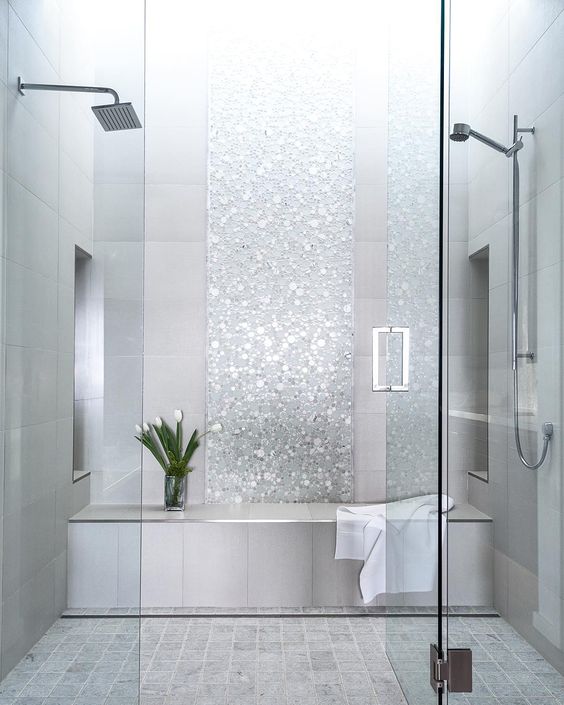 We like tile that adds some sparkling effect to the shower, too, of course. If you want something chicer or more glam, get inspired by this Instagram find. The fact that this is such a glamorous walk-in shower makes things even more special. 
10. Classic Shower Tile Desing
Pinterest gave us this one as well. Sometimes classic is the best way to go, and white subway tiling is always a classic. The off-white wall tiles and the gray shower floor tiles make for a good combo. It looks clean and should be easy to figure out when an extra scrubbing is required. 
11. Busy Shower Tile Design Accent Wall
But we got something a little more lively and interesting over at Domino. With a Moroccan flair, you can add color and personality just by picking the right kind of tile for your shower. Much like it happens in any other house room, having such a pretty accent wall will make you want to spend more time there. Plus, the antique-looking accessories give this room extra flair. 
12. Grayscale Subway Tile Shower
Topp Stiles showed off an easy, gray subway tile shower design as well. Again, it's relaxing, it's refreshing, and it's easy to care for too. Just pair it with a white soaking tub on the outside.
13. Bright Bathroom Shower Tile Idea
Here's another classic design that we're swooning for because of the added detailing. Home Bunch gave us such a good piece of inspiration with this one because it's for more practical layouts in traditional homes. We're definitely going to take this bright bathroom shower tile idea into consideration.
14. Panel Shower Tile Design
Decor Pad, let us peek further at this white, clean shower. This nook is so spacious and luxurious, especially since it's finished off with marble tiles. We love that the large panel-style shower tile matches the ceiling. 
15. Tonal Shower Idea
Here's another beautiful shower filled with varying tile shapes. The marble will always be a beautiful choice, but the layout is up to you. Thanks again, Decor Pad.
16. Dark and Moody Bathroom Shower Tile Idea
Decoist brought us this black beauty. They went with a subway tile with a darker tone and larger format for an edgier and more masculine vibe. The contrast with the grays and whites in the rest of the bathroom is also quite eye-catching. 
17. Mosaic Walk In Shower Tile Idea
Maybe you're looking for some color! Your tiles can come in blue, so why not add that whistful feel to your bathroom. If you're going for something more bohemian or zen, this is it! (via)
18. Walk In Shower Tile Idea – Gray Subway Tile Shower
Open showers really showcase what you've decided to put inside. And marble tiling can really hold its own in this setting, especially when contrasted with the darker wood. (Digs Digs)
19. Dark and Glossy Walk In Shower Idea
Decor Pad showcased a deeper gray tile that we love too! As long as you've got an open enough space as not to feel closed in, dark tile on the walls is perfectly okay to run with.
20. Two-Tone Shower Tile Idea
Hupe Home has this penny tiling featured, and we love how much vivaciousness and youth it brings to the bathroom. There's a bit of lightness and fun brought with that simple of choice.
21. Walk In Shower Tile Ideas in Gray
If you really want to make things a bit different and personalized, why not colorblock the shower? With marbled blues and white, you can do just that. Thanks for the inspiration Decor Pad.
22. Subway Tile Shower in White and Gold
Liz Marie had this beautifully tiled shower up her sleeve. We love how the dark grout makes the cream tiles pop along with the golden hardware.
23. Accent Bathroom Shower Tile Idea
Here are more tiles with a personality all their own. Black and white are always in style, and that's what you get with this beauty from Domino.
24. Glass Shower Idea
We loved this space so much, it's not the first time we've featured it here on Trendir. Your tile can be made of glass for a super retro and modern blend of styles!
25. Pebbled Walk In Shower Tile Idea
And we leave you off with another Pinterest find. These large, blue tile pieces paired with the stone embellishments make for quite an interesting duo, don't you think?
Final Thoughts on Shower Tiles
We're really into all these shower tiles, and we definitely got some really cool ideas for the next remodel. With the right budget and the right view in mind, you'll get anything done. Let us know which ones are your favorites.