Busy Philipps Shares Her Holiday Collection With Amazon Handmade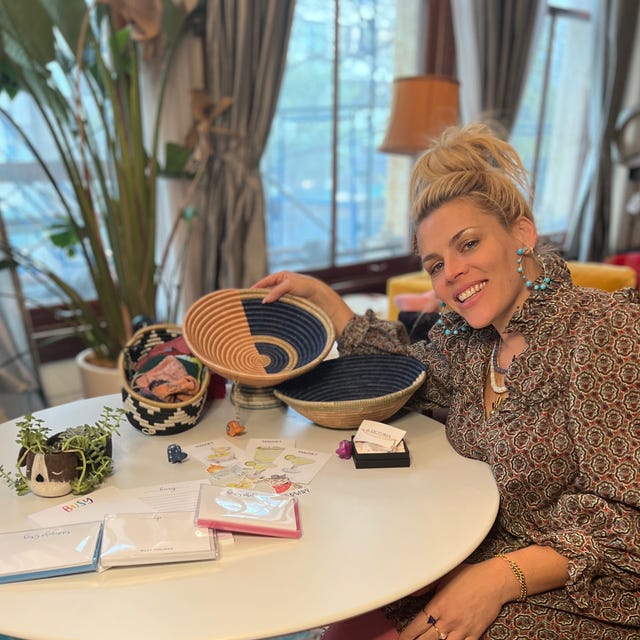 Amazon Handmade
As Christmas approaches, you might be feeling pressure to choose the perfect gift for your loved ones. When shopping for the right present — whether for your parents, kids or best-friend — you want to make sure they're affordable, unique and at-times personalized for each person. In an effort to support artisans, small businesses and handcrafted goods, Busy Philipps partnered with Amazon Handmade to curate the ultimate Holiday Collection.
With Amazon Handmade, you can browse products in a variety of categories — from kitchen and dining to stationary and accessories. With Philipps' collection, you'll find her list of curated products — a few she co-designed herself — all created by five women-owned businesses from around the globe.
Know any art lovers? They'll adore the collection's watercolor illustrations. Looking to upgrade your friend's decor? Philipps has picks to make their space stand out.
To help you on your gift-giving journey (for your loved ones or yourself), take a look at our favorite products below from the Amazon Handmade Holiday Collection from Busy Philipps!
Advertisement – Continue Reading Below
1
Personalized Notepad
Fairmont & Grove Paper Co.
amazon.com
$17.50
Make writing easy and fun with this personalized notepad. Have the person's name beautifully printed in a script font at the top and choose their favorite color for the design and lined sheets (or unlined if preferred).
2
African Sisal Woven Basket
Handmade by artists in Gitarama, Rwanda, this sisal woven basket makes a great addition to any space. Not only can the basket be used as an eye-catching table display, but it can be hung on the wall for guests to admire. Purchasing this basket supports women weavers in Rwanda.
3
Personalized Note Cards
Fairmont & Grove Paper Co.
amazon.com
$21.95
Know anyone looking for a chic stationary set? Co-designed by Philipps, this card set will include the person's name printed at the top, with the colored ink and envelope of your choice.
4
Goldendoodle Dog Vinyl Sticker
kathyphantastic
amazon.com
$4.00
Animal lovers will adore this sticker: a colorful portrait of Philipps' dog, Gina. It's hand-painted, waterproof and the perfect splash of color for any surface.
5
Organic Nesting Bowls
The Yarn Kitchen
amazon.com
$45.00
Minimalist design lovers will appreciate this set of three nesting bowls. They're eco-friendly, soft to the touch and make great planters (or storage for keys and smaller gadgets).
6
Margarita Magnet
kathyphantastic
amazon.com
$5.00
Happy hour never ends (at least for your fridge)! This matte vinyl magnet features a vibrant illustration of a cocktail classic: a margarita.
7
African Soapstone Mini Hippo Trio
Made of soapstone (a mineral known for its "soapy" soft texture), this hippo trio makes an adorable decorative addition.
8
Circle Long Beaded Chain Drop Earrings
T. Victoria
amazon.com
$42.00
T. Victoria started her business to help women feel beautiful inside and out. These labradorite circle earrings are a charming addition to anyone's jewelry collection. They're chic — implanted with gold plaiting and a long labradorite beaded chain — and perfect for an evening or night out.
9
Queso Nachos Magnet
kathyphantastic
amazon.com
$5.00
Calling all food addicts! Magnets may be simple, but with the right design — like this Queso Nachos illustration — they make creative (and droolworthy) presents.
10
African Mini Lidded Basket
Baskets are great for storage. And like some other products on Amsha, this basket is handmade by women — weaved with sisal plants to create a unique and modern design. Purchasing this basket supports women weavers in Rwanda.

This content is created and maintained by a third party, and imported onto this page to help users provide their email addresses. You may be able to find more information about this and similar content at piano.io
Advertisement – Continue Reading Below